ADF Serials Newsletter
For those interested in Australian Military Aircraft History and Serials
June 2003
In this issue:
New crash sites web pages at adf-serials
NZ Serials – Ivan Prince
New ADF-Serials team members – Bob, Len and Martin
Neptune image – Grahame Higgs
Oops, pass that by me again!! – Gordon C
Indonesian Sabre serials update – Martin Edwards
Part 2 :The P40E/E-1/N-1 comparison – Gordon B
Commemoration dates
Anson identification – assistance needed
Feedback
Do you have something for us
Editor's blurb:

Welcome everyone to a revamped adf-serials newsletter. Previous newsletters were formatted via a template on a website which caused a few problems with the formatting at times. Additionally, tables and formatting had to be coded in html, which was time consuming and invariably led to errors creeping in when information was reformatted. This month the newsletter is being produced on MS Word and we would value any feedback that you might have on the changes via our feedback page

This month we are pleased to announce three new members of the adf-serials team: Bob, Len and Martin. All provide valuable knowledge and skills in a number of areas and strengthen the already diverse and enthusiastic bunch at adf-serials.

We have a range of articles this month – Gordon B continues his look at P40's, Ivan Prince reveals the NZ Defence Force serial numbers, we have aircraft that we need id'ing and the next segment of ooops, pass that by me again with yours truly featured!

Forthcoming articles include: the 60th anniversary of the loss of A9-225 which was shot down by a US Navy liberator, more on the P40's with Gordon B, updates and aircraft images.

Till next month,

Jan

Crash Sites:

Jose and Grahame have been working on a new web page at adf-serial, which focuses on crash sites. To date there are five crash sites listed:
Avro Anson W2262
Beaufort A9-350
Dakota A65-106
Macchi A7-018
Macchi A7-039
Thanks to Jose and Grahame for this new site that can be accessed from the adf-serials home page

http://www.adf-serials.com

New Zealand Serials – Ivan Prince

Thanks to Ivan Prince, our NZ Defence Force serials expert for the following information on New Zealand Serials:

A Defence Force Order (Air Force) was issued in 1992, which formalised the policy for allocation of RNZAF aircraft serial numbers. It also introduced a change to instructional airframe numbering.

The policy for airworthy aircraft serial numbers rests heavily on historical precedent. The main features are as follows:

All serial numbers comprise "NZ" plus four figures and block reservations are:

NZ1xxx Primary trainers, utility types

NZ2xxx Flying training other than pilot.

NZ3xxx Rotary wing aircraft.

NZ4xxx Maritime aircraft.

NZ6xxx Strike aircraft.

NZ7xxx Transport aircraft.

Unallocated blocks are reserved for either new roles or for overflows when any of the above blocks become over subscribed.

The first 2 figures in combination comprise a "type number", which is unique to that type during its period of service. Type number combinations may be re-used provided the type is not the "replacement" aircraft type, and provided at least one year has passed since withdrawal of the previous type that used that type number.

The last 2 figures, the tail number, must form a unique combination with the type number. This means that historically, the same serial number must not be allocated more than once. **

When disposed of, RNZAF aircraft will normally have the serial numbers removed, but subsequent owners may enter a formal arrangement with the RNZAF to mark their aircraft with RNZAF numbers so long as there is no confusion with aircraft still in RNZAF service.

For instructional airframes, a "G" will be added to the end of the RNZAF serial number, but aircraft currently allocated INST serial numbers will continue to wear them, unless they are used for display purposes. Where there is no previous RNZAF serial number, the present 3 figure series will continue but with a "G" suffix rather than the "INST" prefix.****

** There has been duplication in the past with the Baffins and Walruses, Wellingtons and Vincents, Grebes and Gipsy Moths, Meteor and Beaver.

**** For example Devon INST208 formerly NZ1827 would have become NZ1827G under the new system. Likewise, Vampire WR202 would have become 171G instead of INST171.

Quite simple really I suppose, not that it looks like there will be much occasion to issue many new serial numbers the way we are presently heading !!!

New ADF-Serials Team Members

We would like to welcome the following members to the adf-serials team:

Bob Geale - a researcher of RAN aircraft who has been of invaluable assistance to many of the team members over the past year or so. You can contact Bob at

.

Len Avery - researches army aircraft and is the Webmaster for 161 Recce Flight Association Website. Len can be contacted at

.

Martin Edwards is the new web page administrator for Canberra aircraft and seems to have an interest in Sabres as well.

All of the above researchers provide additional depth to our research interests. Welcome aboard everyone!

Neptune Image – Grahame Higgs

Does anyone know the identity of this Neptune? It was originally believed to be VH-NEP, however this is not the case. Grahame adds that It seems that the mystery Neppy in Perth is an ex USN P2 and ex N54317. Apparently, VH-NEP was reserved for A89-281 but never taken up.

If you have any details please use

our feedback page
Update on Canberras – Martin Edwards
Martin raised the following issues re the recent Canberra story in the newsletter. The discovery of the reports in Flightpath Vol 1 No 4 re the scrapping of Canberras A84-216, 221, 222 and 224 have raised more questions than answers. For starters what where these aircraft previously based at Amberley doing at Morwell in the old gas factory in the first place? Who owned them? (Peter Hookway?), how did they get there? (via Essendon?). Did they make a final ferry flight or were they trucked? Does anyone have details of their demise or better still images?
Darren's reply: They must have been trucked at least part of the way... Latrobe Valley Airport was far too short then. I was at LTV a few years ago not long after they opened the extension to the runway and the RAAF sent a Herc in. I doubt a Canberra would be able to operate there even now. I grew up in Traralgon and was at the airport whenever I had the chance.
I'd say (this is only a guess) they were purchased from Amberley and trucked. The sale date on these 4 was 12/4/72 from the status cards, but then so was the sale date for 223. You'd need to find the sales docket... the number is on the status card.
If you know any of the answers, please use
our feedback page
Oops pass that by me again – Gordon C
This is the third in an occasional column looking at errors in books or magazines I or others come across. For a look at the rationale for the column please see the first article in the December issue of last year.
Thanks to Jan for her submission in the February issue of this year and in fact, I'll add to Jan's correction from the very book she mentioned back in February. First a correction of our own. In that
article Jan listed the book "The RAAF and the Flying Squadrons" as being published by Norman Barnes, in fact he wrote the book and it was published by Allen and Unwin. Just a small slip of the fingers.
[Ed – just testing to see if anyone actually read my bits and pieces, surely a librarian would know the difference between an author and publisher. That's my story and I'm sticking to it ;-)]
So to the book "The RAAF and the Flying Squadrons". On p32 there is a list of the Commanding Officers of No. 4 Squadron RAAF, in fact the format of the book is that at the end of each squadron summary there is this list of COs. Anyway there is the following entries in 4 Squadron's list:
19 Oct 1944 SQNLDR O N Daley
17 Nov 1944 SQNLDR J R Mowbray
Firstly, the details for S/L Daley [sic] are wrong; he was a W/C, Daley is spelt Daly and his initials should be H C N, for Hilson Christopher Newton. Compare another entry for S/L Daly in the same book on p222. At least here he managed a few more correct details, but more on that in a moment. The other aspect that stands out is that W/C Daly had a very short time as CO of the squadron. The reason for this is that he was KIA on or around the 17/11/44! Now Mr Barnes usually mentions those details with an entry (cf. the lists for the squadrons 76, 93, 460, 461 etc). So the correct line should read:
19 Oct 1944 W/C H C N Daly (KIA around 17/11/44)
Now to the other entry mentioned above. On page 222 the COs for 85 Squadron are detailed as (this is not the full list):
15 Feb 1943 SQNLDR C N Daly
5 Sep 1944 SQNLDR K E James
Now we know the corrections for S/L Daly but it appears he was CO of 85 Sqn for 19 months which I think would make it a record in WW2. Further, within a month of leaving 85 Sqn, he was CO of 4 Sqn and then within a month of that was KIA. In fact, F/L Roy Goon became the temporary CO of 85 Sqn on 2/8/43 until he left that sqn on 22/10/43. Obviously, there would have been another CO after F/L Goon and before S/L James, but I don't have access to the ORB of 85 Sqn at this time. So the list should read:
15 Feb 1943 S/L H C N Daly (KIA around 17/11/44)
2 Aug 1943 F/L R F Goon (temp)
22 Sep 1943 ?/? ? ? ????
5 Sep 1944 S/L K E James
My sources for this article were: Commonwealth War Graves Commission, National Archives of Australia, Chris Goon (Roy Goon's son) and Roy Goon's logbook.
So if you have come across some errors or omissions in books or magazines please drop me a line giving details of the material and where the issue is and what sources you have used in determining this error. Common now there is heaps of material out there. Let's start researching it!
[Ed] Which leads us naturally to my next blooper……..
~~~~~~~~~~~~~~~~~~~~~~~~~~~~~~~~~~~~~~~~~~~~~~~~~~~~~~~~~~~~~~~~
Indonesian Sabre Serials – Martin Edwards
My apologies to Martin Edwards for the transcription error in last month's Indonesian Sabre Serials Table. The list below is as supplied by Martin:
Date of Serial Serial Current Notes
Delivery TNI RAAF Situation
3/73

F8601

A94-361

Aerotrader

Scrapped 1/76

3/73

F8602

A94-366

Aerotrader

3/73

F8603

A94-368

Aerotrader

3/73

F8604

A94-945

Aerotrader

3/73

F8605

A94-949

Aerotrader

3/73

F8606

A94-952

Crashed 12/76

3/73

F8607

A94-957

Tail on F8612

3/73

F8608

A94-963

3/73

F8609

A94-968

Tail on F8601

3/73

F8610

A94-969

Crashed 10/74

3/73

*****

A94-970

Returned to RAAF

Training Aid

3/73

F8611?

A94-971

3/73

F8612

A94-972

Aerotrader

Scrapped 6/76

3/73

F8613

A94-975

Crashed 3/79

3/73

F8614

A94-980

Aerotrader

3/73

F8615

A94-988

TNI Academy

3/73

F8616?

A94-990

11/73

F8617

A94-955

Aerotrader

?/76

F8619

A94-369

Jeff Trappet? Or

Aerotrader?

Ex RMAF FM1369-

FM1909

7/76

A94-978

Ex RMAF FM1978

7/76

A94-979

Ex RMAF FM1979

7/76

A94-987

Ex RMAF FM 1987

8/76

A94-353

Ex RMAF FM1353-

FM1993
The Indonesian Air force (TNI) received 23 ex RAAF Sabres. The initial 18 were serialled F8610 to F8617. The non-flying A94-970 appears to not have had a TNI serial allocated. There were a further 5 aircraft obtained from Malaysia and these are serialled F8619 to F8623.
From the above list it can be seen that the ex RAAF serial number and the delivery date determined the TNI serial number. I have only filled in serial numbers that I have been able to confirm. F8611 and 16 are assumptions. As only 23 aircraft were delivered and F8623 was the last (delivered 8/76) can we assume that it was A94-353? The only other possibilities would be one of the other ex RMAF aircraft namely A94-978, 979 or 987.
References;
ADF Serials website
Duncan's F86 website
CNAPG website
J Baugher website
Meteor Sabre and Mirage in Australian Service. Stewart Wilson 1989
Warbird Today Series "Sabre" 1993
Warbird Directory. Paul Coggan 1992
The USAAF P40E-CU and the British Model P40E-1-CU in-use were different in some respects. Though Curtiss Wright at Buffalo New York constructed both varieties in production lots, their respective users made some equipment changes and finishes.
As a comparison with latter models that were designed for easier production and were expected to perform better in difficult operations and service in the field, the initial P40E was a heavy, under powered version. The P40E/E-1 was fabricated from aluminum alloy whereas latter P40N's were fabricated almost totally from alclad. Compared to these latter models (N-1, 5 etc), with less equipment, the P40E weigh in some 1000lbs heavier (8500lbs verses 7500lbs P40N-1).
However, not all newer models had the same features presented as on earlier models, as the need to reduce the weight was considered important to improve its performance at higher altitudes.
These were a mixed blessing, depending on the item, as illustrated:
All of the P40E and P40E-1 aircraft, with the exception of the last 200 produced P40E-1s built to Lend Lease contracts, 41-36754 to 41-36953 (EV500-699), were equipped with a Bendix hydraulic gun charging system.
P40Ns were hand charged on the ground prior to flight. This meant, once the guns jammed in flight, they could not be cleared or fired in the air till manually cleared on the ground.
The P40E and P40E-1 aircraft were equipped with a 76lb 34amp Battery
, whereas the P40N-1 had a 34lb 11amp battery. The draw back was that the P40E and P40E-1 could electrically start their engines, whereby the P40N-1 had to be started by a hand inertia operated starter.
P40E-1 aircraft had the provisions for identification lights
. The first 800 P40E-1s, 41-24776 to 41-36353 (ET100-999) had the British type recognition lights. This consisted of one upper and one lower light and Formation lights, forward of the cockpit, on the fuselage sides. The remainder, 41-36354 to 41-36953 (EV100-699) had USAAF type recognition lights of one upper and three lower lights. USAAF P40Es 40-358, 40-382 to 41-13599 had no lights, as didn't the first 400 P40N-1s.
The first 100 produced P40Es (up to 40-480) had non-defrosting type single type windscreens, whereas the remaining P40E/E-1s had a defrosting Windscreen incorporating an outer and inner glass panel with hot ducted air being forced between them. P40E-1 were equipped with external rear-view mirror, off set to port on the windscreen frame, whereas the P40E had them fitted internally. P40Ns had reverted back to the single panel type windscreen as it was deemed; the option was not required anymore.
British Kittyhawk 1s did not have additional pilot's head armour till the 561st airframe, 41-24776 (ET100 #1 P40E-1). The P40E did so, continuing up to the 401st P40N-1 (without a padded headrest though, on the P40N-1) Whereby after the 401st P40N, the rear cockpit area from Station 5 was re-designed to incorporate a sloping deck to improve rearward view. Some P40E/E-1's in the 49thFG did have a local modification (by the 43rd Service Squadron) whereas the head plate extended to cover from the Pilot's shoulders to the upper forearm.
The P40Es and initial P40Ns were finished in Olive drab with Neutral grey contrasting underneath, whereas the P40E-1 was completed, initially in RAF period finish of earth and dark green. USAAF P40E aircraft had the roundel (USAAF Cockade with Red Roundel) applied at the factory with the markings "U.S.Army" under the Wing. P40E-1 had their British roundel applied but with their USAAF Roundels shipped with them in their crate as loose items, pending allocation. Hence, the application on delivery of some early RAAF P40E-1's of yellow outlined 1941 RAF Roundels. The P40N-1 had they're USAAF roundels applied at the factory, except for any Russian allocations, as their markings were void till after delivery to the USSR. Orders in Australia to delete the red roundel on USAAF aircraft were issued to the then 49th Pursuit Group on 28/03/42.
These P40E-1Dupont colours varied to the colour contrast of those used by Britain, but none the less were in stark contrast to Olive drab/Neutral grey of the USAAF P40s. Latter P40E-1s sent to Russia, may have had the earth replaced by grey as displayed in some pictures. In Australia, those P40E-1's that visited the 43rd Service Squadron for overhaul were sprayed Olive drab or foliage green, as example, by those used early in 1943 in PNG, by the 8th Fighter Squadron. Latter RAAF operations in the Operational Training Units dispensed with camouflage on P40E's as it saved weight. The first "aluminium " finished P40N for the RAAF was A29-415 in early 1944. Paint was stripped off to see if the incoming USAAF practice of non-painted aircraft improved the performance. It was successful and became a common occurrence towards the end of the war, though not all P40s were unpainted.
P40E and P40E-1 had identical top cowlings, however the P40E-1 had provision for ring and bead sights for night fighting and backup. All parts of the airframe between the P40E/E-1 were interchangeable with minimal modification.
The first 225 P40Es were not initially equipped with self-sealing tanks, whereas from the 226th Airframe, P40E (40-584) and all P40E-1s were equipped with metal fuel tanks with self-sealing liners. The P40Ns were equipped with non-metal self-sealing tanks. The P40Ns were of aromatic resistant type, whereas the P40E/E-1 were not, but were lined with a Fuller compound which broke down from the effect of the High Octane fuels, causing these liners to be replaced at an earlier time. On the P40N, they were only being delivered with the rear wing tanks and fuselage tank, reducing their capacity from the P40E/E-1's 156 US Gallons capacity, to only 120 US Gallons reduced fuel capacity. Thus, the P40N had less range on internal fuel then a P40E/E-1, which, with a drop tank had longer range at some 850miles. To solve this problem on a P40N, the external fuel tank capacity went up, to a 75US.Gallon drop tank. However, it was too heavy to be carried into combat as the weight severely handicapped the fighter's agility. Thus the 52 US gallon tank were used regularly as it was needed, per RAAF records, to ensure that a 200mile operational range on sorties could be maintained. A larger wooden tank was trialed on A29-129 during late 1942.
The Fuel Gauges on P40E-1s were Imperial gallons,
whereas the P40E and P40N were US Gallons.
The P40E/E-1s could only carry a centre line, 500lb Demolition bomb or 52 US Gallon drop-tank. But provision was made on P40E-1s to carry 6 twenty-pound wing bombs. The RAAF trialed a field modification on latter P40Ns to improve the bomb loads. The outer machine guns could be replaced by a modified adaptation plate, which replaced the outer gun mount and .50cal machinegun temporarily on each wing, for the carriage of 300lb bombs for interdiction. The ability to return the airframe to a six gun P40N in a few hours was still met. This gained RAAF Headquarters approval and was first used by 76Sqn. It should be pointed out that the P40N-1 had only 4 .50Cal Guns installed, with the other two supplied in the aircraft shipping Box. It had the provision to be made a six gun P40, and on the whole was, by all users, except when carrying wing bombs.
P40E/E-1s had an emergency hydraulic system, which consisted of an extra hydraulic hand pump and an auxiliary tank.
The P40N aircraft had this deleted.
The brake system on the P40E/E-1 and the first 400 P40N-1s were identical, the brake size being 13" x 3.5" as opposed to latter versions, reducing to 11" x 3" diameter brake wheel hubs.
P40E/E-1 had a vacuum system, as most of the instruments were vacuum operated
, whereas the P40N did away with this system as the instruments were electrically activated.
P40E-1s were not equipped with carburettor heating,
whereas the P40E and P40N (as winterising equipment separately packed in Box) were.
The P40E up to the 540th (to 41-5520) airframe had provision for a USAAF SCR-284 radio whereas all subsequent P40Es and P40E-1s had provision for SCR-274-H, SCR-582, SCR-535, and SCR-515 radios.
The first 80 P40N-1s, from 42-104429 to 41-104508, had only the provisions of carrying one receiver and transmitter of the SCR-274-N type. P40N-1 from 81st to the last 400th had the provisions for carrying SCR-275-N, SCR-522, SCR-535 and SCR-515 radios. The P40E did not have provision for AN-73 and AN74 masts. P40E-1s had provision for the broad arrow antenna, and the last two hundred, 41-36754 to 41-36953 (EV500-699) had provisions for the AN73 and AN74 masts. P40Ns to the 80th airframe had provisions also.
P40E-1 and P40N did-not have data cases,
whereas the P40E did have them
I underlined the special features that can help differentiate the P40E-CU and the P40E-1-CU models, when they first were rolled off the production line. Given the urgency and speed that the initial 334 P40E/E-1s were sent out to Australia by 9th March 1942 (out of an eventual total of some approx.552 airframes by May 1942), very little modification was undertaken by the users, apart from markings and paint schemes. These were, in most cases, queues to study photographs where the original finish has been replaced whilst in USAAF and RAAF service.
The only major change made, in RAAF service in the first few months of 1942 was to standardise the seat harness, from those lap belts on USAAF P40Es to the British Sutton type as on P40E-1s.
These arrived in a canvas bagged kit along with the boxed airframe. A non-standard five point quick release harness was trialed on A29-51 during May 1942 whilst in service with 77Sqn RAAF. However, did not gain RAAF Headquarters approval, though being a snugger fit, and so it was then converted back to a Sutton Harness configuration. A negative comment though, the test pilot didn't like it and refused to fly the aircraft on second flight until the Sutton was installed. Strange?
Sources: Curtiss Wright Factory Representative Report, 13/04/43,
P40N Belly Tanks 01/10/43 RAAF HQ Memo; own research records (Gordon R Birkett 1999-2003)
Commemoration Dates – Jan
Gordon C recently raised the following issue about commemoration dates.
3 June
As I write this (about 1125) on this day in 1944 the RAAF fought its last major Pacific air battle of WW2! (Interesting that the war in the Pacific would go on for another 14 months and there were many US aces created in that time frame.)
Anyway just south of Biak Island over the Japen Straits 15 P-40Ns of 78 Sqn engaged 12 Japanese fighters and 3 dive bombers. The battle lasted from about 1120 to 1155 local time. They claimed 7 fighters (which they said were Oscars, but were most likely Zeros) destroyed and 2 dive bombers (claimed as Kates, but were in fact Judys) destroyed. In actual fact they destroyed 7 fighters and 3 Judys. 78 Sqn's loss was one P-40N and its pilot F/Sgt Happy Harnden.
Of the 14 pilots who returned from that mission 4 did not see the end of the war either being KIA or in accidents. Of the 10 who survived the war 5 are still alive today! May we remember their sacrifices and victories.
What a great idea Gordon C! We would like to make this a regular segment in the newsletter so if you have any dates that you would like to share with us email jan@adf-serials.com.
Anson Identification – Can you assist us?
The following information was sent in by Grahame Higgs identifying two Ansons that are currently houses at the AFA Museum at Bull Creek, WA.
W2121 does not appear in our listing, and I cant find anything on the two Ansons flown by Jimmy Woods to and from Rottnest. They are "The Islander" and "William de Vlaming". See images below. If you have any information on these aircraft Grahame would like to hear from you, please use
our feedback page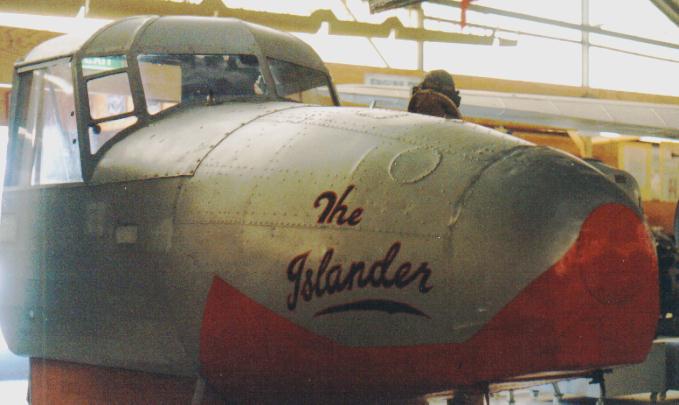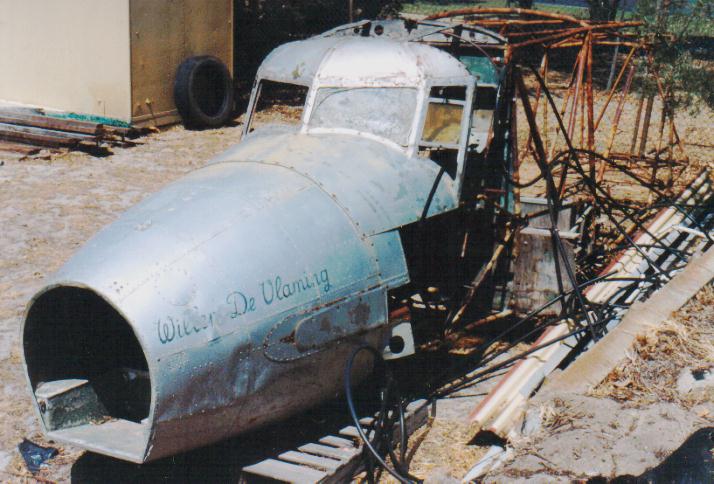 Feedback:
We value the feedback of the people who visit our website and those who read the newsletter. If you would like to tell us what you think of the website or newsletter please use our feedback page