ADF Serials Newsletter
For those interested in Australian Military Aircraft History and Serials
ã 2004
February 2004
In this Issue:
Website updates – Welcome to Dave Masterton
Nose art web pages on ADF Serials – Your comments?
Oz Aircraft Discussion group
Can you Help – Lockheed Ventura
Empire Flying Boats – Wynnum Graham
Ooops pass that by me again – Gordon C
Temora Aviation Museum Update
2004 RAAF Museum Air Pageant 29 February 2004
P40E/E-1 Operations in Australia PartVI – Gordon B
The RAAF's First Mid-Air Collision – WGCDR (now AIRCDRE) Mark Lax
On this Day
Editor's blurb

Website Updates:

The ADF Serials group would like to welcome Dave Masterton to the group. Dave's specialty is in the naval aviation field, an in particular Wessex helicopters. He has been providing valuable assistance to the group with information and images.

The efforts of people such as Dave, Len (Army Aviation) and Ivan (NZ Serials) provide the expertise to ensure that the site represents all aspects of our military aviation!

Darren has recently modified the feedback form for updates on the website. Those now providing updates can specify the type of aircraft.

Thanks to Rod Farquhar who recently gave almost 200 images to the website. Grahame is currently resizing and labelling these for inclusion. Thanks to both for their efforts.

The average hits per day for the ADF website in January 2004 was 709.

Nose art web pages

– the group is considering adding a web page for nose art – images and explanations. Please let us know if you would be interested in this section or perhaps might be able to provide images and or information via: http://www.adf-serials.com/feedback/index.cgi

ADF-OZ aircraft Email group.

Last year the ADF Serials group decided to set up some email discussion groups for enthusiasts. Gordon C is the moderator for the ADF Oz aircraft and has put together the following suggestions for the group's operations:

1. I will take any comments, summaries, questions, histories, books, kit information and operations relevant to the aircraft listed below.

2. I will take any comparison details people wish to submit regarding aircraft of this list and contemporary aircraft either Allied or opposition. However at least one of the aircraft listed below must be in the comparison.

3. I will take what-if or what-might-have-been speculations with regard to any aircraft listed below.

What do people think about mentioning in the subject line of the email which of the above 3 categories the message is about? So they will be categorised:

1 [Details]

2 [Comps]

3. [Spec]

For example - Subject : [Spec] CA-14A

Gordon lists the following aircraft as being suitable for this list:

No A Series numbers allocated

Wackett Widgeon I & II

Wackett Warrigal I & II

A3 Wackett CA-2/6

A20 Wirraway CA-1/3/5/7/8/9/16

A23 Woomera CA-4/11

A46 Boomerang CA-12/13/14/14A/19

A62 Kangaroo CA-15

A85 Winjeel CA-22/25

A92 Jindivik

A93 Pika

If you think there are others that should be included in this list, please let Gordon know.

If you would like to join one of our email research groups, please use the following link and fill out the form below the group descriptions.

http://www.adf-serials.com/ourteam.shtml

Can you help? -Lockheed Ventura ID – It's not A59-13 so what is it?

Andy Kidd is currently involved in the restoration of a Ventura originally thought to be A59-13. However, the Lockheed ID plate has now ruled this out. Can anyone assist Andy to ID this aircraft? He has provided the following information:

Via the ID plate located on the RH side of the fuselage the s/n stamped is 4611 assembly #110695. Using some of the info gained in my previous search ,I believe this ship to be a model 37-27-02 built to USAAF standards and specs, but never given a US Bureau or USAAF serial. Instead, if my maths is correct , she was listed as RAF 473 as well as being referred to as a Ventura Mk.II, possibly Mk II A.

The following are some web addresses that I owe a great deal to and maybe someone will be interested in visiting them and join me in my search for information:

www.uswarplanes.net/hudson.htm www.csd.uwo.ca/pettypi/elevon/baugher (this is where I found the c/n for our ship) www.USAAF serials Joe Baugher (mega info and BU #s too) www.pvsquadrons.freeservers.com

If anyone has additional info please use the feedback form link:

http://www.adf-serials.com/feedback/index.cgi

Empire Flying Boats – Wynnum Graham

Wynnum Graham has been busy researching the Empire Flying Boats and this information can now be accessed on the ADF serials website:

http://www.adf-serials.com/otherpages/empireflyingboats.shtml

Thanks to Wynnum for his time and effort in compiling this information.

Oooops... Pass That By Me Again.

It has been sometime since this occasional column looking at errors in books or magazines has been published, so I thought I'd start of the new year on a reformed note, knowing how much you all missed reading this column. This time we're going to have a look at the huge tomes "Aces High" Vol 1 & 2 by Christopher Shores and Clive Williams. Surely the breadth and detail of these volumes have much to recommend them and I think they should be on any aircraft enthusiast's bookshelf. However their huge sweep means that some small errors are bound to creep in.

My caveat in this article is that in large air-to-air combat things become very muddled and confusing. To compound the issue there is the added spice of the propaganda on both sides which inflates their own kills and underestimates their own losses. Of course some nationalities are better than others in their propaganda. And it goes

without saying that we Australians were exact and concise in all our recording of such events. :)

On page 597 of Vol 1 there is listed the claims of S/L Peter Turnbull (481). He is listed in claiming 3 Zeros while flying with 75 Sqn in the defence of Port Moresby during March-May 1942. The discrepancy I have is with the claims on the 10/4/42. He is listed as claiming 2 Zeros on that day, but I can't find him making those claims

on that day. The Operations Record Book (ORB) for 75 Sqn makes no mention of those claims, in fact the only claimed destroyed that day goes to Atherton for a bomber and Piper for a Zero, with Ellerton claiming a probable destroyed bomber. The Japanese claim they only lost one aircraft while Australian ground observers reckon 2 bombers and one fighter. So you can draw your own conclusions.

On page 351 of Vol 1 there are the claims for W/C Les Jackson (270520). The entry for the 6th Apr mentions Les claiming 2 Zeros in A29-9. However in that combat he was forced to ditch this Kittyhawk on a reef off Port Moresby and it was written off a few days later. Therefore, the entries for the destroyed claims of 17th and 18th Apr as being obtained while flying A29-9 could not have been due it being written off some 11 days previously.

On page 143 of Vol in the claims list for S/L Alan Boyd (561) of Apr 1942 it has him sharing a destroyed Zeke and damaging two others with 76 Sqn. However 76 Sqn wasn't in the Battle for Port Moresby and it should be 75 Sqn. Must have been a slip of the fat finger on the publisher's part.

In Vol 1 on page 632 there is the claims list for S/L Robert Whittle (404009). With regard to the claims of the 31 Jan 1944 it was actually on 23rd Jan and this was subsequently corrected in Vol 2 p198. There also appears to be some confusion about the claims in that combat too. There were 2 Kittyhawks from 86 Sqn piloted by F/O Whittle and F/Sgt Steve Kerrison that attacked one Betty and 2 Zekes south of Cape Valsch. They both shared in the destruction of the Betty and F/O Whittle claimed a Zeke destroyed on their first pass. F/Sgt Kerrison claimed a probable Zeke and was informed later that the Zeke crash on Kai Island and so the claim was changed to destroyed. The note (f) is a little in error too as it mentioned the Zeke pilot being captured on Kai Island, however those islands were occupied by the Japanese at that time and they wouldn't have captured one of their own. The reason they confirmed the destroyed for Kerrison was a radio transmission that was intercepted by intelligence. So the entry for Whittle should be a shared destroyed of a Betty and a destroyed Zeke all on the 23rd Jan 1944. Further the Kittyhawk they have F/O Whittle in on that day A29-356 is incorrect because that Kittyhawk only served with 76 Sqn and on 5/11/43 with W/C Arthur piloting it, it crashed into a Spitfire and was burnt, being written off 17 days later. However in Vol 2 they update the Kittyhawk serial to A29-30 but this is also incorrect too because it only served with 75 and 76 Sqns and after an accident on 10/6/43 was out of the Pacific theatre by the time the

combat took place.

Temora Aviation Update

The Temora Aviation Museum will not be flying aircraft at the Museum in February as they will be participating in the 2004 RAAF Museum Air Pageant celebrating 90 years of flying at Point Cook.

Flying dates as advised by the Museum are:

7 March 2004 Albury Air Show

14 March 2004 Tyabb (Vic) Air Show

then at the Museum on:

27 and 28 March 2004

24 and 25 April 2004

12 and 13 June 2004

28 and 29 August 2004

9 and 10 October 2004

27 and 28 November.2004

Please check the Museum's website for any changes:

http://www.aviationmuseum.com.au/

2004 RAAF Museum Air Pageant Sunday 29 February 2004

The 2004 RAAF Museum Air Pageant will be held on Sunday 29 February 2004 at Point Cook and celebrates 90 years of flying at this site. Entry to the Pageant is free. Gates open at 9 am and the flying program commences at 2.30 pm.

The pageant will feature:
Southern Knights acrobatic team
Australia's only airworthy Boomerang
Catalina flying boat
Spitfire
Vampire
Sopwith Pup
Winjeel
Yak
And much more!!!!!
While at the Museum, why not check out some of the newer exhibits: the installation of the Long Tan helicopter, a special exhibition "War without Boundaries" Australia and the World on Terrorism and the target-towing single seat Vampire?
If you would like to contribute further to the maintenance and preservation of Australia's military history, you can join the "Friends of the RAAF Museum" and receive their newsletter "The Aerogram" four times a year. There are two types of membership:
Active members who volunteer their time and skills at the Museum through a variety of ways such as guided tours, aircraft maintenance, research and many other ways.
Financial members who receive the newsletter, free entry to Museum special events and also a 15%discount at the Museum Shop.
For further information, check out the following websites:
RAAF Museum
http://www.raafmuseum.com.au
Friends
http://form.asn.au/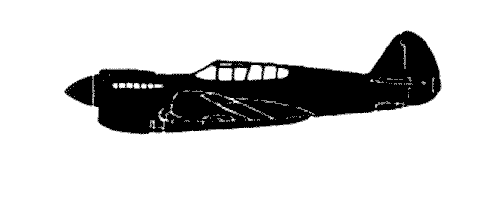 P40E/E-1 Operations in Australia PartVI
Under the US War Department's initial policy of shipping out men and planes as they became available, it was necessary to provide for them a provisional squadron organisation in the theatre. This policy was only a stopgap until the regular Pursuit Groups (49th, 8th, and 35th) were to arrive in theatre towards the beginning of February 1942. Only the first of these Groups was to be equipped with P-40E's.
The 49th Pursuit Group was the first American unit to arrive in Australia as a complete unit, with all flying and support echelons fully manned and equipped. They had left San Francisco on the 12th January 1942.
The Group arrived in Melbourne with the Phoenix Convoy [SS Mariposa (carrying 19 crated P40E's) and the SS President Coolidge (carrying 32 crated P-40E's), but without the USAT Monroe, which had diverted to Brisbane some days before with 67 P-40Es)] on the 1st February 1942.
Group personnel left the ship on 2nd February 1942 and were transported to Flinders Street railway station in Melbourne where they boarded trains for a variety of different military and civilian sites around the city.
Orders (per A.105/42) from United States Army Forces in Australia (USAFIA) HQ were despatched on the 9th February 1942 that stated that these squadrons would be based as follows:
North Eastern Area Command
: Two squadrons, one at Port Moresby and the other at Townsville.
Southern Area Command:
One squadron at Bankstown, along with the HQ element of the Group.
The Port Moresby and Townsville squadrons were to be formed and begin flight training at Williamtown and Canberra. They were to move up to their stations when they were fit for operational training.
This was in line with the outstanding Australian Government request to provide fighter coverage to our north.
On the 5th February 1942 the first party of 21 USAAF members arrived at RAAF Bankstown, followed by another 776 Officers and men of the 49th Pursuit Group HQ and the 7th PS on the 16th February 1942. On the same day, another party led by Lt R.D. Van Auken with 45 Officers and 113 men of the 8th PS arrived by rail at Canberra.
Two RAAF Liaison Officers were attached on this date to the latter, Pilot Officers Loft and Channon (later to 75 Sqn RAAF). Flt Lt B.M.Cox (later 75 Sqn RAAF) was posted from 4 Squadron RAAF on the 14th February 1942 to Station Headquarters Canberra to liaise with the 8th PS. Another RAAF officer, Flying Officer A.D.W.Gilbert (RAAF Service #799) followed on the 19th February 1942.
Though attached to RAAF HQ Bankstown, further supernumerary RAAF pilots liaised with the 7th PS. Among these were Pilot Officers J.W.Norton and A.D.Tucker who, having arrived from an Operational Training Unit on the 16th February 1942, would become founding members of 75 Sqn RAAF in the following month.
By this date the Group had been dispersed all over the lower eastern part of Australia; at RAAF Bankstown (49th HQ Flight and 7th PS), RAAF Fairbairn (8th PS), RAAF Williamtown (9thPS) and the maintenance group at Amberley, waiting for their pursuit aircraft to be assembled and delivered.
An eighty-man maintenance group from the 49th PG had moved by rail to RAAF Amberley on the 5th February 1942 to assist in assembling and testing P-40Es that were delivered in their crates. This team was lead by 1st Lieutenant George Hermanson of the 7th Pursuit Squadron, 1st Lt Richard "Dick" Illing of the 8th Pursuit Squadron, 1st Lieutenant Fred Hollier of the 9th Pursuit Squadron and 1st Lieutenant Paul Werner from the HQ Squadron.
The P-40 Kittyhawks (Warhawks in USAAF nomenclature) were being assembled and ferried from Amberley to the respective squadron locations by ferry pilots (both USAAF and RAAF) who had completed their P-40 conversion.
With just over 100 pilots allocated to the 49th Group, the experience level could only be judged as low, as only a limited number, estimated as low as 7, had been previously trained in flying the P-40. The number of accidents experienced by all three squadrons highlighted this during the first few weeks of training. Damaged P-40Es aside, some 15 were write-offs.
The 49th Pursuit Group accumulated the following accidents for the first three weeks of operation alone:
7th Pursuit Squadron:
On the 23rd February 1942, 2nd Lt Fredrick C. O'Reily crash-landed 2 miles west of Bankstown and hit a house. The occupants were unharmed. The P-40E was a write-off.
On the 26th February, 2nd Lt J.Fisher landed Bankstown NSW, ground looped and damaged his left wing and port undercarriage. The aircraft was 41-5329.
41-5310 was damaged at Archerfield on the
25th February 1942, when 2nd Lt Ed Ball when it collided with an AA gun mount whilst taxiing. It was repaired at Archerfield and was included as one of the first 25 P-40Es issued to the RAAF. Its A29-number is not yet determined.
On the 4th March two P-40E's force-landed near Nowra NSW. One of the P-40E pilots was 2nd Lt. J.I. Childress who damaged his left wing and undercarriage after oil covered the windscreen. The aircraft was 41-24819, a P-40E-1-CU. Repairs were effected on the other P-40, and on the 9th March, the P-40E, piloted by 2nd Lt Joseph King, collided on take-off with two children on horseback, killing Betty Woods and injuring her younger brother. The horse was killed. Both aircraft were returned by truck to Bankstown for salvage.
Another loss happened on the 14th March when 2nd Lt Frank Stiertz, following a grounding order after flying underneath the Sydney Harbour Bridge a week earlier, crashed on take-off at Bankstown. The aircraft came to a rest upside-down against a hangar wall. He died of asphyxiation from leaking Prestone whilst trapped in the inverted cockpit.
8th Pursuit Squadron:
41-5368,
#61 White, piloted by 2nd Lt. L.B. Marks, was involved in an
accident on the 27th February 1942, at Canberra ACT. It sustained damage to the oil and Prestone coolers, ailerons and flaps, left wing, landing gear, propeller and lower engine cowling. It was relocated to 5AD Wagga for repairs/salvage in April.
41-5369
crashed-landed at Canberra on the 27th February. The hulk was relocated to 5AD Wagga during April.
41-5455, #40 Black,
was damaged at Canberra late February when landed by 2Lt Harris. The engine and propeller were changed. On the 28th March 2nd Lt Arthur "Doc" Fields made a forced landing on Aslings Beach at Eden on the coast of New South Wales. The aircraft was salvaged and returned to service as #50 White.
41-5486
2Lt Bannis crashed at Birwood. The hulk was taken to Canberra late March then onto 5AD to be salvaged for parts in April.
41-5559
piloted by Lt. John Musial crashed at Narrabarba near Eden NSW on the 28th March and was killed.
Lt Neal.T.Takala was killed in 41-5602 #51 on the 28th March near Towamba NSW. The aircraft was a total loss and was removed to 5AD at Wagga during April.
41-5617
#52 crashed-landed near Canberra ACT when flown by 2nd Lt Monroe Eisenburg. The hulk was relocated to 5AD Wagga during April.
41-5632
was damaged on take-off at Canberra ACT early March, but repaired and later issued to the RAAF as A29-71
41-5644, #205 Black,
was down as needing Depot repair at Laverton RAAF on the 7th March. 2AD records state that the propeller hub and reduction gear was damaged on take-off. This would become, after further USAAF service, A29-155 in the RAAF in August 1942.
41-5646
crashed-landed at Canberra ACT on the 27th February. The hulk was relocated to 5AD Wagga during April.
41-24817 (ET141)
crashed at Tumut in New South Wales during a smoky haze. The pilot was a 2nd Lt. Gilbert. The aircraft was a total loss and was removed to 5AD at Wagga during April.
9th Pursuit Squadron:
41-5455
was issued on loan on 24th February to USAAF Fighter Control Bankstown, ex-8th PS Canberra ACT. It was damaged at Williamtown early March and sent to 5AD for repair in April. It was repaired and re-issued to the 49th PG and lost in PNG.
41-5551
was damaged when 2nd Lt. Gil Wilmarth crash-landed on the 27th February at Williamtown NSW.
41-5619
was ground looped on the 2nd March by 2nd Lt. J.J. Lanett at Williamtown NSW. It was sent to 5AD for repair and later re-issued to the 49th PG.
41-5649
2nd Lt. J.D. Livingstone 0-376528 had an undercarriage collapse on the 23rd February and the aircraft nosed over.
41-5650
was damaged on take-off at Williamtown early March and was sent to 5AD Wagga on the 26th March for salvage.
2nd Lt. W.D. Jackson piloted 41-24779 (ET103)
when it crashed on the 22nd February at West Maitland, NSW. It was moved to Williamtown, but then sent to 5AD Wagga on the 26th March.
41-24796 (ET120) (below)
was damaged beyond repair on the 24th February by 2nd Lt. Don. G. McGee 0-430836 (who later flew P39/P400s with the 8th FG in PNG) on landing on the only finished runway struck a hole and turned on his back. Apparently he had landed on a freshly laid concrete strip extension.
As the Java campaign wound down towards the beginning of March 1942, its surviving pilots were evacuated and returned to Australia. With combat experienced pilots now available to provide able flight leaders for each of the Group's squadrons, appointments were made.
Lieutenants Nathaniel "Nate" Blanton and Bill Hennon and 2nd Lieutenant Lester Johnsen, all 17th PS (Prov) Java veterans, became flight leaders in the 7th Pursuit Squadron under the command of then newly promoted Captain Robert Morrissey.
The 8th Pursuit Squadron got 1st Lieutenant Alison Strauss [ex-3rd PS (Prov) and 17th PS (Prov)] and 2nd Lieutenants George Kiser [ex-17thPS (Prov)], Robert Dockstader [ex-3rd PS (Prov) and 17th PS (Prov)] and Jim Morehead [ex-20th PS (Prov) and 17th PS (Prov)], all Java veterans.
The 9th Pursuit Squadron got 1st Lieutenants Joe Kruzel [ex-17thPS (Prov)], Ben Irvin [ex-3rd PS (Prov) and 17th PS (Prov)], 2nd Lieutenants Andy Reynolds [ex-20th PS (Prov)] and Robert Oestreicher [ex-3rd PS (Prov) and first P-40E pilot to have shot down an aircraft over Australia, 19th February 1942].
The 49th Group HQ got Captain Buzz Wagner [ex-PI 17th PS and 13th PS (Prov)] and 1st Lieutenants Walter Coss [ex-17thPS (Prov)], and Jack Dale [ex-17thPS (Prov)].
These were to command, teach fighter tactics and to provide a higher level of preparedness to the new P-40 pilots of the 49th Pursuit Group.
On 4th March 1942, Lieutenant Colonel Wurtsmith asked Captain Morrissey of the 7th Pursuit Squadron how many pilots were combat ready. He advised Wurtsmith that he had 11 men who were considered combat ready.
These 11 included the following 8 pilots who arrived at Horn Island: 2nd Lts; A.T. House, Claude Burnett, Clarence Sanford, William Reddington (B Flight leader), Wilson Chapman, Chas T Johnson, Hal Martin, and Stephen Andrews. Unconfirmed names of the other three P-40E pilots that didn't make it to Horn Island are 2nd Lts Donald Lee, J. Watkins and Donald Dittler.
On 7th March 1942, Captain Bob Morrissey and his 11 men left Bankstown at dawn and headed for Horn Island. There were to be no USAAF ground crews at Horn Island, so the line chief, Master Sergeant Hays, issued small tool kits, spark plugs and some simple instructions to each of the pilots. The armourers also issued instructions on how to load the six .50 calibre wing guns. They used road maps to find their way to Brisbane. They then used maritime maps to find their way up the Queensland coast.
Three Warhawks had to divert to Charters Towers due to mechanical problems as quoted in Protect and Avenge. Two of these eventually headed south again while 2nd Lieutenant Don Lee in the other Warhawk, #15, "Bit-Za-Hawk" helped the RAAF to overhaul his aircraft at Charters Towers. He failed to make Horn Island in the end, but instead went onto Darwin in late March 1942.
The nine remaining Warhawks stayed overnight in Townsville.
On 8th March 1942 they flew to Iron Range airfield for fuel. Then late that afternoon they finally arrived at Horn Island airfield, across from Thursday Island. They parked their aircraft at the southern end of the shorter runway and set up their tents in the bush beside the airfield. Morrissey signalled Wurtsmith in Melbourne and was advised to stand by until further notice. They started to fly patrols within sight of the airfield for the next week.
On the 14th March 42, war came to the 7th Pursuit Squadron. Following a Japanese bombing raid on Horn Island they were immediately involved in aerial combat. Twelve Zeros of the 4th Ku were escorting eight bombers on the raid. In the fight that ensued, three pilots of the 4th Ku, including Nishizawa claimed six P-40s, along with two probables. The 7th Pursuit lost one P-40 but claimed 4 Zeros and 1 Japanese bomber. In actuality, the Japanese lost only two fighters and their pilots. These were Lt. j.g. Nobuhiro Iwasaki and PO1C Genkichi Oishi. One of these Zero wrecks is still extant today on Hammond Island, to the west of Thursday Island.
One Warhawk (piloted by 2nd Lt A.T. House) with jammed guns rammed one of the Zeros that crashed. His Warhawk subsequently made a forced landing at Horn Island with 3 feet of wingtip missing. This particular P-40E was to remain at Horn Island till early April 1942 as a spares source. The wing and engine (V1710-39 #41-5538) returned to Townsville on the SS Macdhui in late April to be freighted on to 5AD Wagga.
Only one Warhawk was actually lost in combat that day. 2nd Lt. Sanford had got hopelessly lost and headed west for about 400 miles until his aircraft ran out of fuel off Cape Arnhem, in the Northern Territory. He bailed out and was picked up by local Aboriginals who helped him to be later rescued. He was to never return to the 49th Group due to sickness.
We'll end our introduction with the 7th Pursuit Squadron having engaged the enemy, and now concentrate on the "impact" of some of the salvageable 49th Pursuit Group P-40E wrecks on the RAAF's quest to be equipped with P-40Es.
The big day was the 28th February 1942; the RAAF was finally getting its P-40Es and we'll cover that in Part 7 next month.
Special thanks to Bob Livingstone, Shane Johnston and Buz Bushby for all their help
In the next instalment: P40E/E-1 Operations in Australia Part 7 – The RAAF
THE RAAF'S FIRST MID-AIR COLLISION

By WGCDR Mark Lax

ADF Serials would like to gratefully acknowledge the ADF Directorate of Flying Safety and AIRCDRE Mark Lax for the use and reproduction of this article. Also many thanks to Dean Norman for the arrangement of this article.

DURING 1996, the RAAF will be celebrating its 75th Anniversary. Throughout the year, there will be flying displays around Australia by the Roulettes and other RAAF and allied units, and Base 'Open Days' etc. As our contribution to the celebration, (in addition to this Anniversary Special Issue of Spotlight), the magazine will periodically publish historical articles throughout 1996; ie, events of significant importance during the Service's developing years.

The following article is an intriguing study of the RAAF's first mid-air collision, painstakingly researched by WGCGR Mark Lax. In order to preserve its historical value, the article has been published in its entirety.

'The committee finds that a collision took place between two DH-9 machines belonging to a formation of seven DH-9 machines which formed pat! of the

RAAF aerial escort to Their Royal Highnesses, the Duke and Duchess of York, on their arrival in Melbourne on the 21st April, 1927... '

So begins the Air Accidents Investigation Committee final report into the RAAF's first midair collision.

In 1927, this rather tragic accident occurred over Melbourne, the RAAF's ninth fatal since the Service had formed in 1921. The two aircraft, in a seven-ship formation flypast to salute the visiting Duke of York collided, causing the deaths of four airmen and eventually, an independent inquiry into the whole of the RAAF. The accident, now 69 years past, still offers many lessons for today.

The aircraft

The RAAF in 1927 was a very small both in terms of manpower and aircraft, operating several obsolete types which had been part of an 'Imperial Gift' to the Dominions for service in the Great War. A collection of 128 SE-5As, DH-9s and DH-9As were originally provided to Australia but, because of lack of funds, squadrons did not form until mid-1925 (note 1). By 1927, many of the original aircraft were unserviceable and squadrons were reduced to making do. The RAAF was not in good shape.

This particular flypast formation consisted of seven DH-9 aircraft. The DH-9 first flew in 1917 as a replacement for the Royal Flying Corps' most successful DH-4 general purpose bomber aircraft. The Australian Flying Corps never operated any of these types, but no doubt Australians had the opportunity to fly them either as members of the RFC, or borrowed for a 'spin' from sister RFC and RAF squadrons.

The British Imperial Gift included 28 DH-9s for use by the fledgling RAAF. By July 1925, No 1 Squadron had formed at Point Cook and some of these aircraft were allotted to this new unit. They were used by the squadron for Army Cooperation, a role In which they had achieved some success during the war. Others were in use by No 1 Flying Training School, also based at Point Cook.

The DH-9's were essentially two seat bomber and general purpose aircraft. Powered by a 230 hp Siddeley Puma engine, they had a top speed of aircraft, about 112 mph at 10 000 ft, a rated ceiling of about 15 500 ft and an endurance of about 4.5 ills. Armament consisted of a fixed Vickers gun forward and a single free-mounted Lewis gun aft. A bomb load of 460lb completed the weapons fit.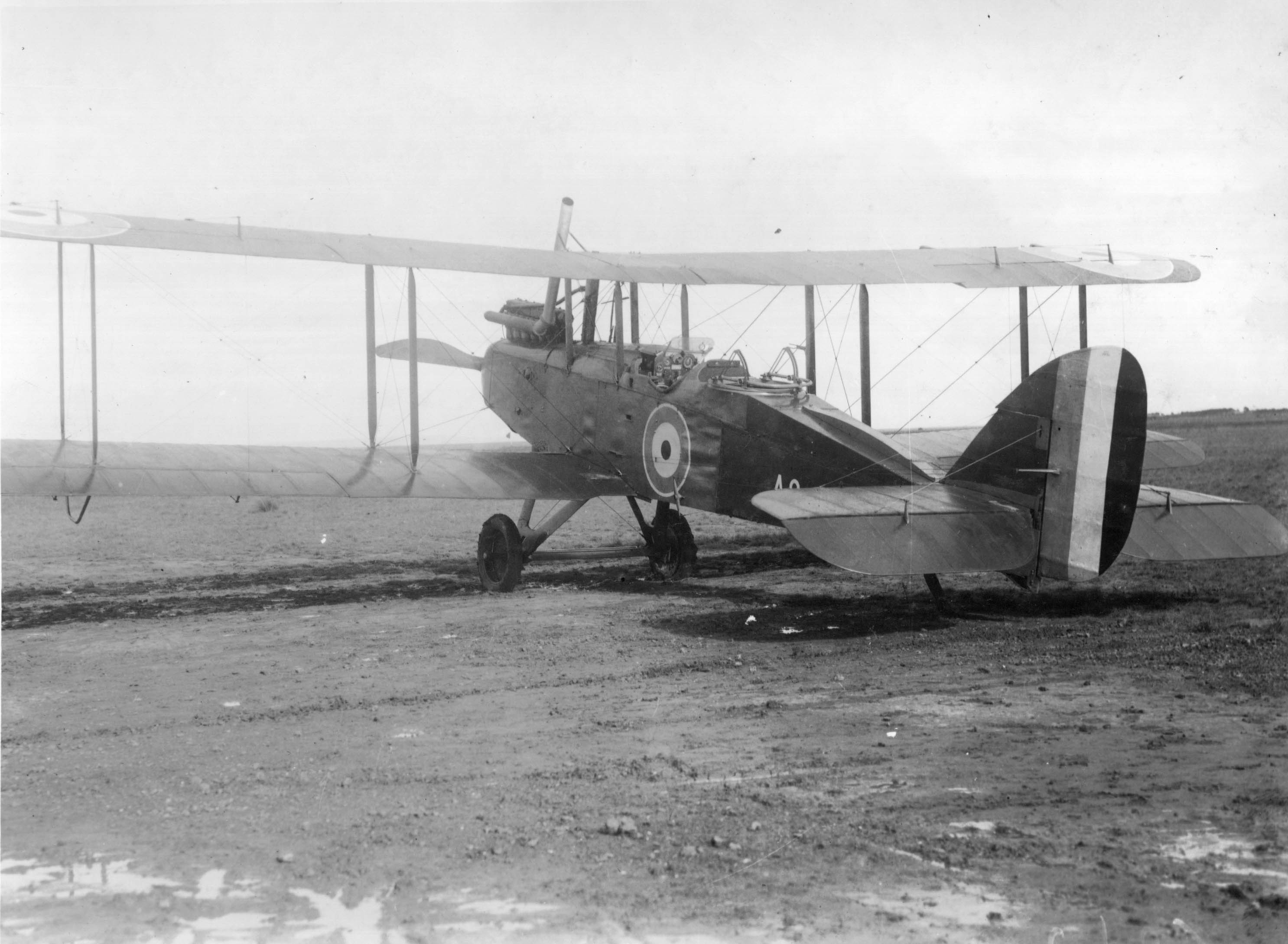 A DH-9, similar to the two that collided during the Royal inspection of the Guard of Honour at Government House.
At 30.5 ft long and a wingspan of 42.5 ft, they were relatively small by today's aircraft standards, indeed shorter than a PC-9! They were also primitive. Problems with serviceability and safety of the WWI-vintage aircraft meant that little in the way of effective training or operations could be achieved. According to PLTOFF Wilfred Brookes (note 2), a squadron pilot at the time:
'The performance of these DH-9s and DH-9As on long distance flights of some 200 to 300 or more miles would end when a couple of them would have to make forced landings for one reason or another. '
Reliability, particularly of engines, was not good. Other squadron members reported wood rot in some spars and fabric decay due to the wet and damp Melbourne weather. Nevertheless, they were all that was available and all were reported serviceable for the flypast.
The parade
The Royal couple were visiting Australia for the official opening of the new Parliament building in Canberra. Part of the tour took them to Government House in Melbourne. The RAAF was to provide a suitable aerial escort for the Royal party from the time they disembarked from HMS Renown until they reached the gates of Government House.
The formation in question was one of several tasked to welcome the Royal couple. In all, 30 aircraft would take to the skies and just about every pilot in the RAAF would be needed. As such, some who flew that day were holding down ground jobs, but the accident did not involve any of these gentlemen. The flypast was to consist of seven aircraft flying in 'V' formation. At the appointed time and place, the lead aircraft would enter a steep dive from 1 000 ft in salute to their Royal Highnesses, then pull up on reaching 500 ft AGL to continue normal flight and return to Point Cook.
The formation had practised twice before the appointed time and date for the flypast. Perhaps surprisingly, some pilots who flew in the final salute had not been involved in the practice days, and others had flown in different positions to those in which they practised. After a short briefing, it was usual for the aircraft to take-off in position; so essentially, the formation remained in position throughout the entire flight.
On the day of the incident the formation was numbered and crewed as illustrated in Figure 1.
A6-23 (lead)
FLTLT Jones
FLGOFF Waters
A6-24 (No 3)
FLGOFF Nicholls
AC1 McGeehan
A6-3 (No 2)
FLGOFF Eaton
AC1 Rhyder
A6-7(No 5)
PLTOFF Philpott
AC1 Turner
A6-5 (No 4)
FLTLT Dines
CPL Ramsden
A6-22(No 7)
FLTLT Ewert
AC1 Herford
A6-26 (No 6)
FLGOFF Thornton
SGT Hay
Figure 1: DH-9 formation for flypast
Each aircraft had a passenger in the rear seat, no doubt a treat for such an important occasion. The passenger of the sixth aircraft, Sergeant Hay, was a photographer who had been put on the flight at the last moment to capture the spectacle on film. The photographs he took, if any, were never developed.

The accident
The aircraft had been flying for about 2.5 hrs before the salute, a long time to hold formation even at about 90 kts. The Royal procession moved up St Kilda Road from Station Pier at 2.15 pm, past the Melbourne Town Hall at 3.20 pm and then back towards Government House to be there by 4.00 pm.
At the appointed time, the flypast turned down St Kilda Road towards Government House. All went well up to this point, but witnesses stated that one aircraft (No 6), was lagging. Unawares, FLTLT Jones, the formation leader, started his dive followed shortly afterwards by the rest of the formation. At the bottom of the dive, as each aircraft put on power to climb away, No 6 came up underneath No 4, collided, and both aircraft subsequently plummeted to the ground.
Witnesses to the midair stated that No 6's propeller severed the other DH-9's port wing causing that air- craft to immediately fall earthward. It impacted in Dodds Street and both crew were killed instantly. The other DH-9, however, appeared to stall, then entered a flat spin, burst into flames and fell through the roof of the Postmaster-General's garage. Both crew also died and the aircraft and garage were destroyed. Fortunately, no one on the ground was injured.
The collision occurred just as the Duke was starting to review the RAAF Guard of Honour. Airmen in the ranks reportedly heard the Duke comment to the Parade Commander, SQNLDR Harry Cobby, 'Two of your buggers gone, (note 3) The effect of the crash on everyone was devastating. The Melbourne Age proclaimed the following day (22 April 1927):

'There was a crack like a pistol shot and spectators were horrified to see two aeroplanes falling in a trail of smoke...hundreds of women [were] screaming and fainting as they saw the wrecked planes disappear... '
The Melbourne Argus, also the following day, devoted a whole page to the crash and was no less colourful:
'Suddenly, there was a shriek, followed by terrified cries from numbers of women...both aeroplanes appeared to mingle in a sickening medley of rending, crashing noises... For an instant, the two wrecked aeroplanes clung together, tumbling all ways as they fell and crumpling up so that the wing of one and the tail of the other were seen to fall away. '

But a greater effect was felt by the RAAF comrades of the deceased. The RAAF was so small in 1927 that everyone knew everyone - troops and officers - so none could be untouched by the tragedy.

As could be imagined, a huge crowd quickly gathered at the crash scene and police had to use reinforcements and mounted patrols to keep eager onlookers away. A RAAF crash and salvage party arrived some time afterwards and GPCAPT Williams, the CAS, announced an immediate investigation. Condolences were received from Their Highnesses, the Governor Lord Stonehaven, State and Federal politicians, and many others.

The airmen involved
The leader of the formation, FLTLT George Jones, was a veteran of WWI - later to become the RAAF's fourth CAS. At the time Jones was a flight commander at No 1 FTS, and as such a natural choice as formation leader. His air experience was primarily with No 4 Squadron, AFC where he became an air ace credited with 7 kills over France. After returning from the war he enlisted in the newly formed Australian Air Force where he was appointed officer in charge of the Motor Transport Repair Section at Point Cook as a Flying Officer. By 1927 he had been promoted Acting Squadron Leader at No 1 FTS. In his rear seat was FLGOFF John Waters, also a pilot and No 1 FTS Adjutant at the time. Neither saw the accident behind them.
His No 2 (and deputy leader) was FLGOFF Charles 'Moth' Eaton who had served in the RFC during the war and transferred to the Australian Air Corps in 1920. At the time of the accident he was posted to No 1 FTS as an instructor. He went on to become one of the Air Force's true pioneers, although surprisingly, never achieving high rank. He retired after WWII in 1947 as a Group Captain. In his rear seat was AC1 Joe Rhyder, a Fitter Aero who had joined the RAAF the previous February. Rhyder's duty for the flight as passenger was to fire a red 'Very' flare if the aircraft landed in the water.

Other pilots and crew members of the formation had varied experience. PLTOFF Harry Nicholls, the No 3, had joined the RAAF as a Citizen's Air Force pilot one year prior. His passenger, AC1 John McGeehan, a general hand, later testified that he saw the collision, but could not bear to watch the final crash. No 5 was flown by PL TOFF Jack Philpot of Melbourne who had also just recently graduated from pilot's course. His rear seat was filled by (Fitter General) AC1 Frank Turner, also a witness to the crash, who later testified at both inquiries.

The last aircraft of the seven to survive was flown by FLTLT Ulex Ewart, an experienced pilot with No 1 FTS who had joined the RAAF in 1923. Ewart brought up the rear and, as there was no communications between aircraft in those days, he was there to keep an eye on the more junior members of the flight. AC1 George Herford, a Carpenter Rigger with No 1 FTS, filled the rear seat.

The casualties
The five surviving aircraft and their crews did not play much part in the accident. Some were later called as witnesses. Those involved in the collision, however, deserve further examination. The casualties were flying in No 4 slot (FLTLT Rob Dines), and No 6 (FLGOFF Vince Thornton).

Dines had logged 346 flying hours and had served in the RFC and RAF as a pilot in the last year of WWI. A skilled pilot, on joining No 1 Squadron in November 1924 he was appointed the 'A' Flight Commander within 14 months. Sadly, his promotion to Flight Lieutenant came through one week after the crash.

Thornton, on the other hand, had logged just 68 hrs in the Citizen's Air Force, although he also had war experience. Initially a light horseman then air mechanic, he graduated from pilot's course in August 1918,just as the war was finishing. His active service was with No 4 Squadron AFC in France. He joined the CAF in June 1925 and became a 'weekend warrior' for his subsequent RAAF service. Perhaps prophetically, he had earlier in his flying career collided his DH-9 with another machine on landing at Essendon, although on that occasion, injuries were only slight.

The passengers were both airmen from No 1 Squadron; Sergeant Bert Hay (Photographer) and CPL James Ramsden (Carpenter Rigger). Both had joined the Squadron the day it re-formed in July 1925 and both had war experience. Hay had also been a member of the Australian Air Corps, the RAAF's immediate predecessor. Ramsden was the only single man of the four.

Growing concern over crashes
By the time he left Australia, the Duke must have thought he had been cursed as other crashes followed. Two weeks after the Melbourne accident he witnessed another fatal crash, this time at the opening of the Parliament building in Canberra. FLGOFF Francis Ewen's SE-5A inexplicably peeled-off formation, stalled and crashed 600 metres from the House and the assembled crowd. Ewen was pulled from the wreckage, but died several hours later without recounting what happened.

The photographs taken at the opening of Parliament were to be flown to Melbourne in another SE-5A piloted by SGT Orme Denny. The plan was to present an album to the Duke before his departure. However, Denny's engine seized over Mount Buffalo and he crashed and wrote-off the aircraft, but fortunately not himself. For safekeeping, he hid the photographs in a tree stump near the wreckage, but although several searches were conducted around the site and the aircraft recovered, the whereabouts of the photographs re- main a mystery.
In both political and defence circles, there had been a growing concern about the number of RAAF fatal crashes. The year prior, 1926, was particularly bad with five fatal accidents causing the deaths of seven airmen - 1927 was not much better. (The accident statistics 1921 - 1927 are listed at Figure 2.)
| | | | |
| --- | --- | --- | --- |
| Year | Fatal Acc | Fatalities | Injured |
| 1921 | 1 | 1 | 1 |
| 1922 | - | - | - |
| 1923 | - | - | - |
| 1924 | - | - | - |
| 1925 | 1 | 1 | 1 |
| 1926 | 5 | 7 | - |
| 1927 | 4 | 7 | - |
Figure 2: RAAF Fatal accidents 1921-1927

To make matters worse, aircraft crashes made sensational newspaper headlines, with journalists often arriving at the crash scene before investigators and police. Such events were clearly in the public eye and sold newspapers, so it was only a matter of time before the whole matter was raised in Federal Parliament.

The Inquiries
As to be expected, a Coronial Inquest, a RAAF Accident Investigation Board and an Air Accidents Investigation Committee (AAIC) inquiry were all convened, the findings of the latter two being preserved at the Australian Archives in Melbourne.
Not surprisingly, these very public incidents were raised in Parliament with the Minister for Defence, the Hon. Sir William Glasgow calling for a departmental inquiry into 'every aspect of the Royal Australian Air Force '. A week later, at the behest of the Prime Minister, the Hon. Stanley Bruce, the AAIC was established to inquire into all such mishaps (note 4).

The RAAF Accident Investigation Board consisted of a President - FLTLT Ivor McIntyre of No 1 FTS, and two members, FLTLT Arthur 'Spud' Murphy of No 1 AD and FLGOFF Leon Lachal, a junior pilot with No 1 Squadron. They called seven witnesses and presented their findings to the Air Board shortly afterwards. The report, however, was not well received. It was poorly constructed, poorly researched and the findings were totally inconclusive. As CAS, GPCAPT Williams sent it back for further work but the need for re-examination soon became nugatory with the convening of the AAIC.
The AAIC investigation was to be a totally fresh and separate review. It was much more thorough and retained some measure of independence from the RAAF. The AAIC consisted of a Chairman - Professor Henry Payne - and five members - Mr Marcus Bell, LTCOL H. Gipps, SQNLDR Eric Harrison, CAPT Ernest Jones and FLTLT Bill Palstra (who also acted as Secretary). (note 5) They met nine times between early June and early July, and interviewed 20 witnesses before presenting their findings to the Minister in mid-July.

It may be of interest to review who was called as witness and the position that witness held. (The witnesses are listed at Figure 3.)
WITNESS

POSITION

RAAF BOARD

AAIC

WGCDR Cole

CO No 1 FTS Point Cook

No

Yes

FLTLT Brownall

CO No 1 SQN Point Cook

No

Yes

FLTLT Jones

Flight Commander No 1FTS

(and formation leader)

Yes

Yes

FLTLT Wilson

Flying Instructor No 1FTS

(and OIC salvage party

No

Yes

FLTLT Ewart

Pilot No 7 aircraft

Yes

Yes

FLTLT Hartnett

Medical Officer

Yes

No

FLGOFF Eaton

"B" Flight Commander, No 1FTS

(and deputy formation leader)

No

Yes

FLGOFF Waters

Crewman of No 1 aircraft

No

No

PLTOFF Nicholls

Pilot No 3 aircraft

Yes

Yes

PLTOFF Philpott

Pilot No 5 aircraft

No

Yes

LAC Croker

Carpenter Rigger No 1 SQN

Yes

Yes

LAC Rhyder

Fitter Aero

(and crewman No 2 aircraft)

No

Yes

AC1 McGeehan

Aircraft General Hand

(and crewman No 3 aircraft)

No

Yes

AC1 Turner

Fitter Aero

(and crewman No 5 aircraft)

Yes

Yes

AC1 Herford

Carpenter Rigger

(and crewman No 7 aircraft)

No

Yes

WO Bromley

Army Drill Instructor / Eyewitness

No

Yes

Constable Jeffris

Policeman / eyewitness

No

Yes

Mr Price, GPO

Inspector / eyewitness

Yes

No

Mrs Rogers

Eyewitness

No

Yes

Miss Pattison

Eyewitness

No

Yes

Mr Anderson

Reporter for The Argus / Eyewitness

No

Yes

Mr Robb

Engineer / Eyewitness

No

Yes

Mr Hanger

Store machinist / eyewitness

No

Yes
Figure 3: Witnesses called during the investigations

As witnesses were called to give their evidence, a mixed impression of what actually happened emerged. WGCDR Cole, the CO of No 1 FTS who was inside Government House and watching at the time, stated that:
'[Thornton) was not paying sufficient attention in keeping station... immediately on impact occurring splinters flew clear of the machines, and the machines themselves became locked together and were more or less stationary as far as height was concerned for an appreciable moment. Then the machines fell away almost vertically and disappeared out of sight below the trees of Government House grounds. The other machine descended comparatively slowly in what is known as a flat spin, until it also disappeared below the trees. '

While most of the pilots and crew were either keeping station or watching the crowd, ACI McGeehan (passenger in No 3 aircraft) saw the collision. He recalled:

'J saw the machine piloted by FLGOFF Thornton (No 6) rise and strike the tail of No 4. Next I saw them both flying towards the ground. '

McGeehan looked away as he did not want to see the impact. Other airmen gave similar accounts. But witnesses on the ground, generally members of the public, provided other twists. Mrs Rogers who described herself to the AAIC as 'a married woman from Armadale' stated:

' the one that came up under the other one seemed to be late. He came down over my head and as he got close to the first he rose and hit that first and it went up in smoke - smoke or flames. I turned my back as I was too moved, and did not look any more. '
Some witnesses stated No 4 hit No 6 and yet others, that No 6 just came in at high speed from the rear. The dilemma for the committee was to decide what actually happened. Although the rules stated that it was No 6 who should avoid No 4 and the minimum separation permitted was about 60 feet, possible causes were:
No 6 was lagging, put on power and just ran into No 4;
No 6 was lagging, put on power and did not observe the formation dive in salute, thus No 4 flew down and hit No 6 who was travelling faster;
No 6 was moving position to allow his photographer better angles to photograph the parade. In trying to regain position, he did not see the formation dive nor adjust his speed and thus hit No 4; or
there was some other (unaccounted) contributing factor.
The outcome
The findings of the initial investigation ie, the RAAF Board of Inquiry, were inconclusive, eg: 'The collision was due to the rear machine getting out of station by getting below and overtaking the machine ahead of it and then climbing. , The report went on to state:

'...as there are many circumstances beyond his control which might contribute to the temporary distraction of a pilot's attention while flying in formation. The Court is of the opinion that there is no evidence of negligence. '

The suggestion (although not stated) was that Thornton had been distracted by his photographer wanting to get into it better position to take photographs. GPCAPT Williams was shrewd enough to realise that such a finding would not placate grieving widows, the press or Parliament, so he returned it for further review. Meanwhile, the AAIC had been appointed and effectively subsumed the BOI's duties. Brought into being on 26 May 1927 under the Air Navigation Act, the AAIC immediately set about its task and brought down its findings on 13 July 1927. The summarised findings were:
that machines A6-5 and A6- 26 were thoroughly airworthy prior to flight;
there was no evidence of any subsequent defect developing during flight;
there was no evidence that the crew were anything but medically fit;
the collision was due to an error of judgment on the part of the pilot of machine A6-26 (No 6) with regard to his position relative to that of machine A6-5 (No 4);
regulations governing saluting by aircraft had not been specifically laid down; and
in view of the difficult nature of the salute, the formation had not practised together sufficiently.
More specifically, Thornton had worn the blame but many other issues were also raised. Parachutes, which incidentally were available but disliked by aircrew as uncomfortable, became mandatory in RAAF aircraft from this time onwards and no doubt many lives were saved as a result. Standard operating procedures were reviewed as were formation and practise procedures and, within a year, the RAAF had on order three new aircraft types to replace the obsolete 'Imperial Gift' aircraft.
Nevertheless, the final outcome of the RAAF's poor safety record was the Government's appointment of an RAF officer, Air Chief Marshal Sir John Salmond to inspect, review and audit the RAAF in 1928. Salmond's subsequent report led to changes in the Air Force's command, structure and disposition, but that is another story.
Today, of course, much more stringent safety and flying procedures are in-place for the conduct of formation flypasts. Rules governing practice sessions, proximity of aircraft, altitude over built-up areas and recovery action are all in place. All members involved in these activities are required to be familiar with and strictly adhere to them.

Postscript
Subsequent to the various inquiries, it surfaced in RAAF circles that several of the pilots who flew in the aerial salute on 21 April had been drinking in the Mess the lunchtime prior to take-off. According to PLTOFF Brookes (note 6):

'Dines was a teetotaller, but Thornton in my opinion had had a good deal to drink. I had a few glasses myself, but not as many as Thornton. It was, of course, Thornton who flew into Dines. (note 7)

The extent of the drinking and the subsequent effect of alcohol on the pilots' reactions cannot be quantified. Why such information was not presented to any of the three inquiries will never be known, but at least to- day blood samples are always taken as part of any accident investigation.

Sources
1. Although No 1 FTS had been formed in 1921, the RAAF's two 'operational' squadrons were not formed as flying units until July 1925.

2. Sir Wilfred Brookes - personal correspondence and interview with author.
3. In deference to the Duke's position, it is more likely that he said 'two poor buggers gone' and was simply misheard. The Age (Friday, 22 April 1927) reported him as saying 'I fear there has been a fatal crash'.

4. According to Glasgow, 'The primary functions [of the AAIC] are to investigate each accident with a view to determining its cause and, at the same time, to recommend what action it considers should be taken to prevent recurrence'. CPD (Senate), Vol 117, 6 Dec 27, pp 2602-3.
5. Professor Payne was from Melbourne University, Mr Bell was superintendent of the Defence Laboratories, LTCOL Gipps was the Chief Inspector of the Munitions Supply Board and Captain Jones was from the Civil Aviation Branch. Harrison was the RAAF's Assistant Director of Technical Services and Palstra represented the interests of the Air Board.
6. Sir Wilfred Brookes - personal correspondence and interview with author.

7. The Third Brother, p 322.
On this day
2 February 1942 1st air attack on Port Moresby
12 February 2004 Blackhawk A25-216 crash lands near Amberley while on a training flight.
13 February 1952 Vampire Mk30, A79-754 piloted by SGT T. Moore dived into the ground and was destroyed during a formation Mach run near Booral, NSW.
14 February 1951 Mid air collision between 77 Sqn P-51D's A68-812 piloted by FLTLT Keith Clarence Matthews O22068 and A68-796 piloted by SGT Sinclair Sutherland Squires A5166 occurred when both pilots recently arrived at 77 Sqn were taking part in a "Close Support" mission with two other aircraft. The mission was to be directed by (Air) Controller for the 2nd US Inf. Div. over the Wonju area. While proceeding to the area the flight encountered heavy cloud forcing the aircraft to set a course for the east coast of Korea to jettison their Napalm tanks over the water while returning to base. Thick cloud was gain encountered and the section split into pairs and started to climb through it. Within the cloud cover one pilot was heard to say "I am spinning and am going to bail out." Upon clearing the cloud the two remaining aircraft tried, but failed to contact the other two aircraft. It's thought that the two pilots collided in mid-air in the cloud cover.
23 February 1956 1 Sqn RAAF attacks Communist Terrorist hideouts six miles from Kuala Lumpur
Thank you to Dean and his aircrew losses research, the Australian War Memorial's "This Month" and the RSL Diary for dates for this month's On this Day segment- Jan
If you have something for the newsletter or would like to submit an article, query or image, please use the following links: